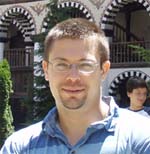 My name is Jordan and I've played online poker semi-professionally for years. I used to play a lot of chess, purely as a hobby, but one day I came across a fantastic article about limit poker. Before that I had always thought of poker as gambling but after doing some research I realized that the implied statistical probabilities are hugely exploitable for a savvy player.
I started first with playing limit poker online and I was astonished how consistently beatable the lower stakes are. After six months though the game felt quite mechanical and boring for me and then I tried No-Limit. Wow, I can tell you it was a blast and I am still hooked on the thrill of it.
As of now I do primarily cash games at FT (because of the rakeback deals) and I usually play on 4 tables 6-max 1-2$ or full ring 2-4$; for MTTs I often prefer the Stars. I'll pass on sharing my player IDs – the game is tough as it is and I don't need to give the regulars additional insight in my play.
Why do I choose to share some of my knowledge then? Well, I fell in love with poker. I enjoy thinking about its intricate logic and I'd like to share with you a glimpse of the order behind the chaos. Plus, to master the presented concepts you'll need to gain hundreds of hours of experience – and enthusiastic newbies are more than welcome at the tables. 🙂
One last parting advice: when you evaluate the usefulness of a strategy always use your own rationality as your guide. If you decide to employ a certain tactic, make sure you understand its complexities and reasoning – and never follow blindly any advice! Above all, think for yourself and trust your judgment; the money will eventually follow…
Have fun reading and good luck at the tables!
Jordan D.
Learn more about different Poker HUD Stats:
Decide which poker HUD tracking software best suits your needs: