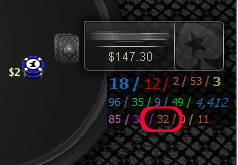 Steal Poker HUD Stat: Defending blinds from Steal (aka Att to Steal).
Now let's put ourselves on the other side of the equation. We are in the BB and the player on the button attempts to steal. When should we defend? As always it depends on our hole cards and on the tendencies of the villain.
The Steal poker HUD stat shows how often an opponent raises form the CO, button and SB in unopened pot, and from that percentage we can derive his probable range. Don't forget you can check the individual stats for each seat because some players will attempt to steal 20% from the CO and 40% from the button and other opponents may do it 30% from both seats and the difference won't show up in the total range.
The other important poker HUD stat to follow is Fold VS Resteal, which indicates how often a player throws his hand away after trying to steal and encountering resistance. This indicator is basically a Fold to 3-Bet stat for steal positions.
Examples using Steal
/For sake of simplicity we'll assume all opponents have stacks of about 100BB/
You are in the BB with ATo and everyone folds to the button who raises 3xBB; the small blind folds. What do you do? Let's look at his stats.
a)      VPIP=20 / PFR=10 / BTN Steal=33 / Fold VS Resteal=75
A TAG player who likes to steal with the top 30% of hands and when is re-raised calls or 4-Bets with the top 8%. So what will happen if we make it 9xBB?
–          75% of the time he'll fold and we'll win 4,5 BB, a half of the capital we risk. Our re-raise has a positive EV based on this stat alone.
–          25% he'll call or 4-Bet. If he 4-Bets light, we'll have the pot odds to call, although we'll most probably be behind in the hand. If he moves all-in, we should fold our ATo. If he calls, we would be 35/65 behind the top 8% of hands, which is not so bad after all.
In conclusion, we should definitely try to re-steal from this opponent. A call is also acceptable, but 3-Betting is statistically the better play.
b)      VPIP=20 / PFR=10 / BTN Steal=18 / Fold VS Resteal=35
A TAG player, who is not in the habit of stealing. His raises most often indicate a proper hand, in this case the top 18%. In result he also doesn't fold to 4-Bets as much.
We are actually even money to his range, so calling is a correct response given the pot odds of 3 to 4.5 (ATo against 66+, A5s+, K9s+, Q9s+, J9s+, ATo+, KTo+, QTo+, JTo is 50/50 when all-in).
If we 3-Bet we'll force him to fold the 18-12% part his stealing range.
Because he plays too straightforward, he'll probably call our 3-Bet with the part of his range between the top 12-4%, against which we are even money. However the rest of the hand we'll be out of position against a TAG.
Also he'll probably move all-in with the top 4% of hands, against which we are 30/70 behind, and we'll have to fold.
In the end calling the steal seems to be the better play because of the favorable 3 to 4.5 pot odds on a call with the ranges being a statistical 50/50. The opponent's tight-aggressive play from stealing positions dictates caution and doesn't give us the right odds to try to re-steal.
☛ Get ​a poker tracking program to put the odds in your favor – FREE trials available!